The following two exercises will be combined as I feel the first is more of a thought provoker than an real exercise. (Also, I keep spelling exercise "excercise." I don't know if I should worry that my life is so sedentary that I can't even spell the word. Lord, help me.)
Faces/Vases. EXCERPT!!!!!
1. Copy the pattern (either Figure 4-2 or 4-3). If you are right- handed, copy the profile on the left side of the paper, facing toward the center. If you are left-handed, draw the profile on the right side, facing toward the center. Examples are shown of both the right-handed and left-handed drawings. Make up your own version if you wish.

2. Next, draw horizontal lines at the top and bottom of your

profile, forming top and bottom of the vase (Figures 4-2 and

4-3). 3. Now, redraw the profile on your "Vase/Faces" pattern. Just

take your pencil and go over the lines, naming the parts as you go, like this: "Forehead … nose … upper lip … lower lip … chin … neck." You might even do that a second time, re- drawing one more time and really thinking to yourself what those terms mean.

4. Then, go to the other side and start to draw the missing profile that will complete the symmetrical vase.

5. When you get to somewhere around the forehead or nose, you may begin perhaps to experience some confusion or conflict. Observe this as it happens.

6. The purpose of this exercise is for you to self-observe:"How do I solve the problem?"
BEHOLD!! The face vase! Sadly, I didn't fully comprehend the task and finished in and moved on. After completing the next exercise I realized the reason I didn't run into any trouble and didn't gain anything from this study was that I didn't match up the lines and wasn't looking at the correlation between the lines. But let us move on. Here is vase-face.
Now, comes the ex(c)ercise where I completely blew myself away. Seriously, this is the moment I realized "oh shit, maybe I CAN do this!" It was excited and so awesome, I did another upside down line drawing. I understand these may not look at much, but go look at my previous entries, it's clearly an improvement. Solely from drawing these upside down I was able to obtain a smidge of what some would call "talent." Here is the ex(c)ercise.
EXCERPT!!!!
1. Play music if you like. As you shift into R-mode, you may find that the music fades out. Finish the drawing in one sitting, allowing yourself at least forty minutes—more if possible. And more important, do not turn the drawing right side up until you have finished. Turning the drawing would cause a shift back to L-mode, which we want to avoid while you arelearning to experience the focused R-mode state of aware-ness.
2. You may start anywhere you wish—bottom, either side, or the top. Most people tend to start at the top. Try not to figure out what you are looking at in the upside-down image. It is better not to know. Simply start copying the lines. But remember: don't turn the drawing right side up!
3. I recommend that you not try to draw the entire outline of the form and then "fill in" the parts. The reason is that if you make any small error in the outline, the parts inside won't fit. One of the great joys of drawing is the discovery of how the parts fit together. Therefore, I recommend that you move from line to adjacent line, space to adjacent shape, working your way through the drawing, fitting the parts together as you go.
4. If you talk to yourself at all, use only the language of vision, such as: "This line bends this way," or, "That shape has a curve there," or "Compared to the edge of the paper (vertical or horizontal), this line angles like that," and so on. What you do not want to do is to name the parts.
5. When you come to parts that seem to force their names on you—the H-A-N-D-S and the F-A-C-E—try to focus on these parts just as shapes. You might even cover up with one hand or finger all but the specific line you are drawing and then uncover each adjacent line. Alternatively, you might shift to another part of the drawing.
6. At some point, the drawing may begin to seem like an inter- esting, even fascinating, puzzle. When this happens, you will be "really drawing," meaning that you have successfully shifted to R-mode and you are seeing clearly. This state is easily broken. For example, if someone were to come into the room and ask, "How are you doing?" your verbal system would be reactivated and your focus and concentration would be over.
7. You may even want to cover most of the reproduced drawing with another piece of paper, slowly uncovering new areas as you work your way down through the drawing. A note of cau- tion, however: Some of my students find this ploy helpful, while some find it distracting and unhelpful.
8. Remember that everything you need to know in order to draw the image is right in front of your eyes. All of the infor- mation is right there, making it easy for you. Don't make it complicated. It really is as simple as that.
At this point in the book I decided that even if I felt that the directions felt a little outdated and silly, I was going to follow them. That brings us these works of "art." 
BEHOLD!!!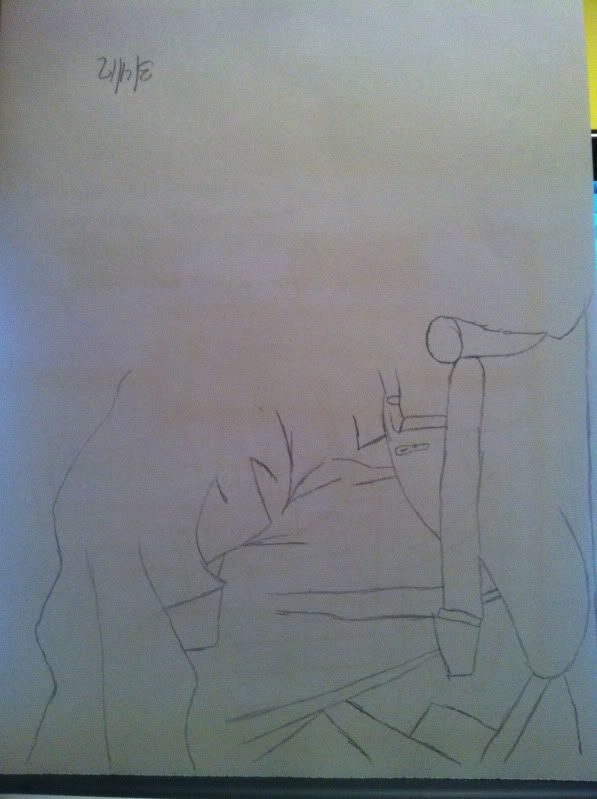 so this one isn't even finished. I got frustrated at this point stopped because the drawing was clearly not going to fit. Notes written on the back of the drawing are as follows: You are a piece of shit that can't even draw lines … haha, just kidding. Seriously though, notes written on the back of drawing are as follows: Picture was started off centered. decision to restart was made approx. twenty minutes into ex(c)ercise. (Not that there is no spell check in my life so I actually did spell exercise wrong. Again, my life is so sedentary I can't even spell exercise correctly. Sad … )
Attempt # 2.

It is at this point that I'm realize I'm still drawing the lines that I'm seeing but am unable to really see the correlation from line to line. I could draw one line as I see it, but I'll see the next in a different light and not how it's supposed to be see in length next to the others.  If you notice the upper left most area where there is pencil, there has been some erasing. It was at the hands that I realized my spacing was incorrect again and I could did not want to continue.
Notes on the back of drawing are as follows: 3/4/12 Same issue as before. I can not seem to be able to understand  special displacement.
Let's continue on the attempt three. (all three attempted were made one after the other, all on the same day. May 4th 2012 The year of our Cthulhu. 
Attempt 3.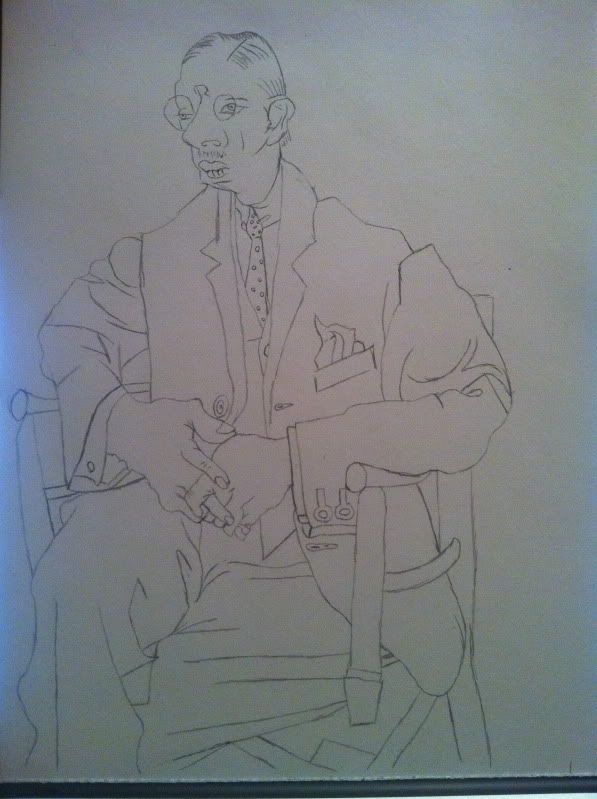 GREAT SUCCESS!!! 
As my third attempt, I made sure to make sure I was making sure I was keeping on eye on the relationship of each line to another. Notes on the back of this drawing as follows: Badass … 
The feeling of accomplishment was overwhelming, so much so that I decided to take on another upside down drawing, here it is. 
Compared to the flat faced no-dimensional  self-portrait I completed one day before this, I can honestly say I'm impressed with what I churned out. It's not great, but it's a giant step in the right direction. Horse was completed on 3/5/12 with the notes on back as follows: After several attempts at drawing and restarting, this has been the easiest. I attribute this to understanding that there is correlations between each line.
On we go. 
Hozay