I've halted the posts for a little bit as I noticed I was flying through "Drawing on the right side of the brain." I expected the book to take me a couple months but instead it took me around two weeks and I was right at the end. I found this unacceptable as I was feeling uneasy and not completely confident about drawing someone else's portrait. 
Taking these feelings into account I decided to turn to the accompanying workout for "Drawing on the right side of the brain." Essentially the work book just fleshes out the instruction with supplemental exercises. So I decided to "start over" and head back a few sections and complete the superfluous amounts of exercises. 
Having gone back I realized a jump in the quality of the work I completed. Of course I still have loads of steps to make, but I like what I'm seeing.
Essentially, this exercise(s) pertains two parts, drawing the hand on a plastic picture plane that you rest on your hand. The reason for this is that by drawing on a flat plane you are turning a three dimensional object into a two dimensional object. It works really well. So here's the exercise(s): 
EXCERPT!!!
1. Rest your hand on a desk or table in front of you (the left hand if you are right-handed, and the right, if you are left- handed) with the fingers and thumb curved upward, pointing toward your face. This is a foreshortened view of your hand. Imagine now that you are about to draw that foreshortened form.

If you are like most of my students, you would simply not know how to go about doing that. It seems far too difficult to draw this three-dimensional form, with its parts moving toward you in space. You would hardly know where to start. The viewfinders and plastic Picture Plane will help you get started.

2. TryouteachoftheViewfinderstodecidewhichsizefitsmost comfortably over your hand, which you should be holding in a foreshortened position with the fingers coming toward you. Men often need the larger, women the smaller-sized Viewfin- der. Choose one or the other.

3. Clip the Viewfinder you have chosen on top of your clear- plastic Picture Plane.

4. Use your felt-tip marker to draw a "format" line on the plastic Picture Plane, running your marker around the inside of the opening of the Viewfinder. A format line forms the outer boundary of your drawing. See Figure 6-4.

5. Now, holding you hand in the same foreshortened position as before, balance the Viewfinder/plastic Picture Plane on the tips of your fingers and thumb. Move it about a bit until the picture-plane seems balanced comfortably.

6. Pickupyouruncappedmarkingpen,gazeatthehandunder the plastic Picture Plane and close one eye. (I'll explain in the next segment why it is necessary to close one eye. For now, please just do it.) See Figure 6-5.

7. Choose an edge to start your drawing. Any edge will do. With the marking pen, begin to draw on the plastic Picture Plane the edges of the shapes just as you see them. Don't try to "sec- ond guess" any of the edges. Do not name the parts. Do not wonder why the edges are the way they are. Your job, just as in Upside-Down Drawing and in Pure Contour Drawing, is to draw exactly what you see, with as much detail as you can manage with the marking pen (which is not as precise as a pencil).

8. Besuretokeepyourheadinthesameplaceandkeeponeeye closed. Don't move your head to try to "see around" the form. Keep it still. (Again, I'll explain why in the next segment.)

9. Correct any lines you wish by just wiping them off with a moistened tissue on your forefinger. It is very easy to redraw them more precisely.
then there is the second half, Where essentially you take what you drew on the flat plane and transfer it to paper. 
This was completed by myself and I was amazed with the progress. 
The third part is one of the supplemental exercise; again this was completed after I had continued on with the book, but have now decided to return to complete them. So here they are, in order, so you can bask in the glory of my progress with me. 
1. Original Base drawing of my hand to track my progress. 
The Second series here is the initial exercise along with the picture plane drawing.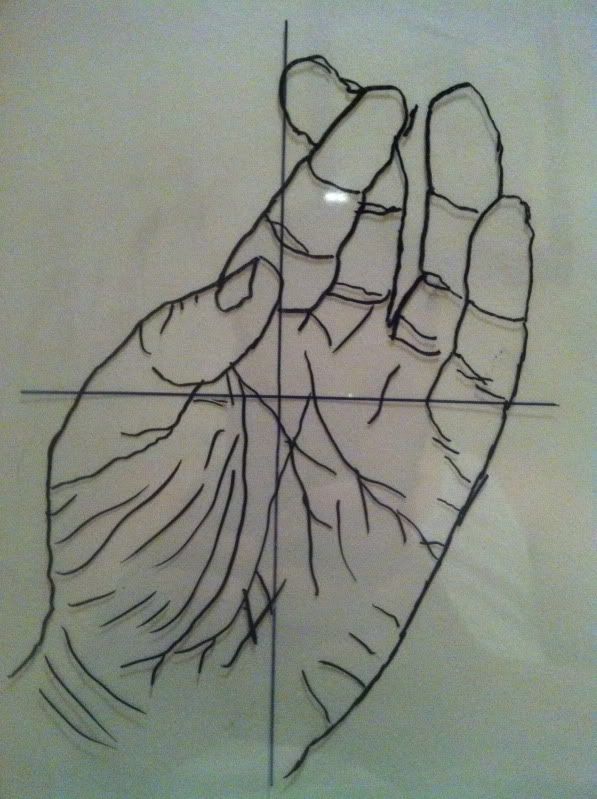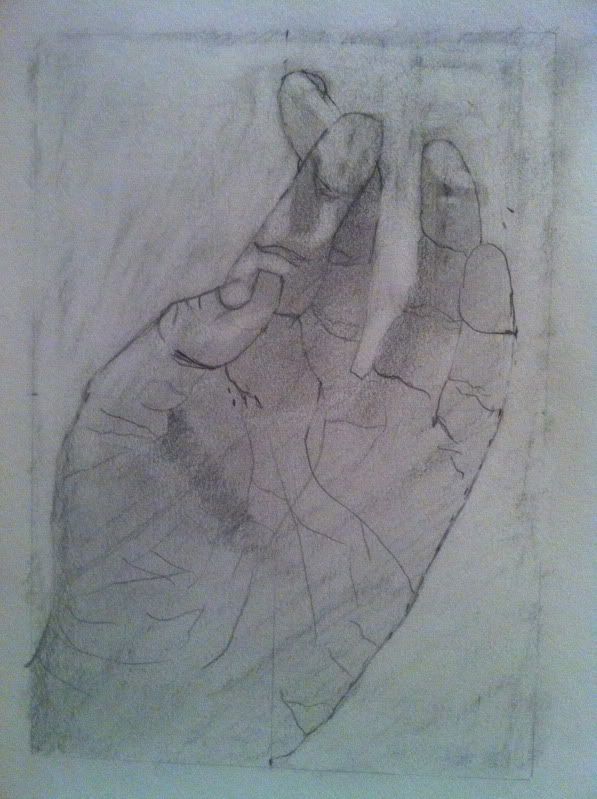 I was thoroughly impressed with the above hand, looking back now it looks super crummy, but it was still progress, none the less. 
And lastly is the supplemental drawing, still my hand just holding an object this time. Picture plane, then drawing to finish it off. 
Hozay